Top 3 reasons to capture that magical moment
1. A FREE photo session of your precious little one
2. Your favourite portrait in a FREE gift
3. A FREE sharing service to announce your little one's arrival
The Bounty Hospital Experience
Wondering what to expect in Hospital?
Watch our video and find out why so many mums love our service, and how we can help you to treasure the memory...
Follow the link below for ideas on what to bring for the most creative baby photos:

Get all the details on how your photo session takes place.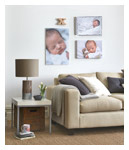 Turn your precious baby photos into priceless keepsakes.